Zatista is home to some of the top emerging and established artists from all over the world. When you browse our curated gallery, you're looking at artwork from different countries around the globe! It's one of the many elements that makes discovering and purchasing unique, one-of-a-kind paintings and artwork feel special. That abstract painting you purchased for your home could have traveled across the ocean before it landed on your living room wall.
So, in celebration of the diversity that our curated online art gallery has to offer, we thought we'd share some of the incredibly talented artists that sell their inspiring works on Zatista. 
We're taking you on a quick tour of the globe with a spotlight on artists from some of the many countries you'll find listed in our gallery!
Spain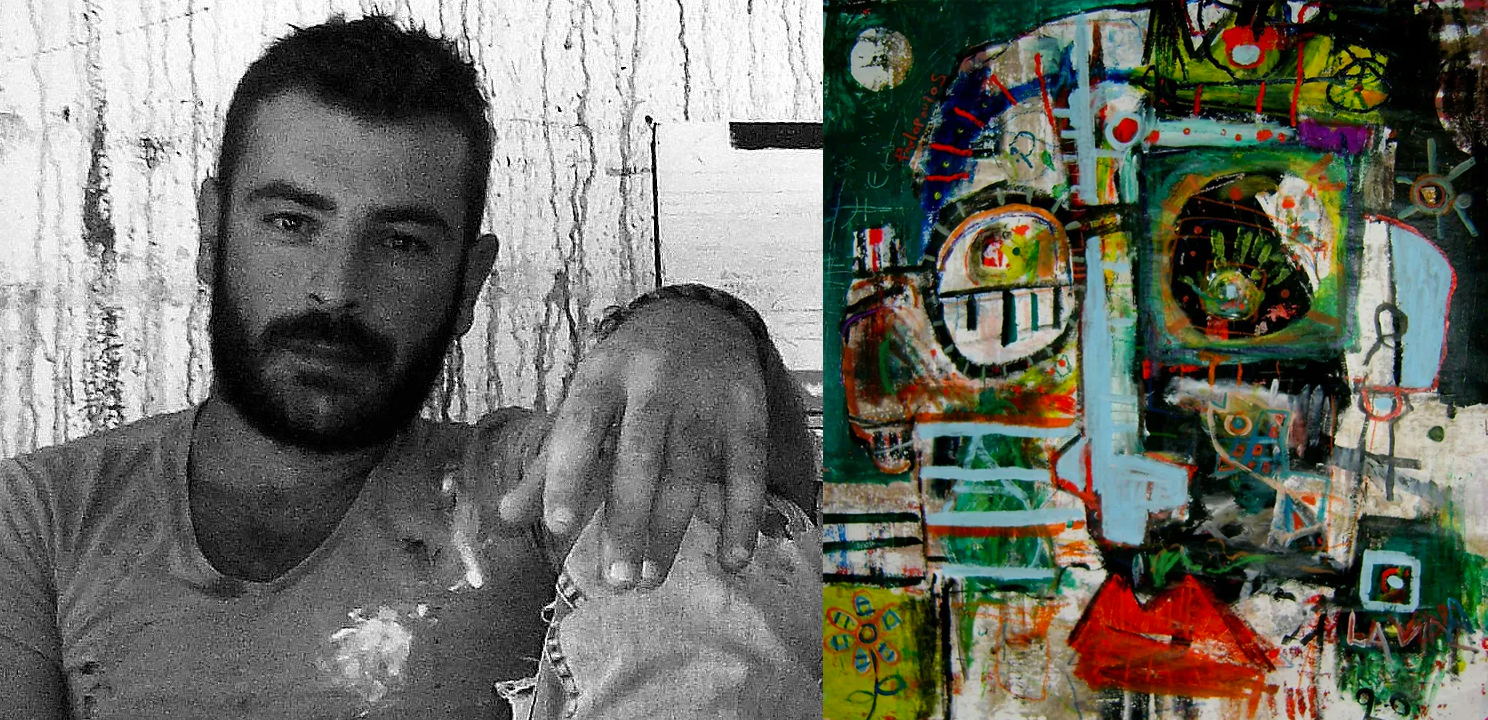 Shown above: Amor Abstracto by Dimitris Pavlopoulos
First stop is Barcelona, Spain, where you'll find Zatista Artist Dimitris Pavlopoulos. He paints out of his art studio based in this Catalonian city known for its breathtaking art and architecture. Pavlopoulous' abstract portraits and modern works are colorful and emotive. He has studied graphic design and fine arts, and has been painting since childhood.
Word from the artist's statement:
Dimitris Pavlopoulos repeats the same motifs in his paintings, yet each picture is utterly different, his starting point the relationship between painterly concepts such as texture, color, line, and form; This play on ideas gives him space to explore how we see a painting, the depth and nuance of material as well as the potential it has to manipulate how we view the picture plane. Some of his figures look like copper or collage-like cut outs, the rest more illustrative in nature.
France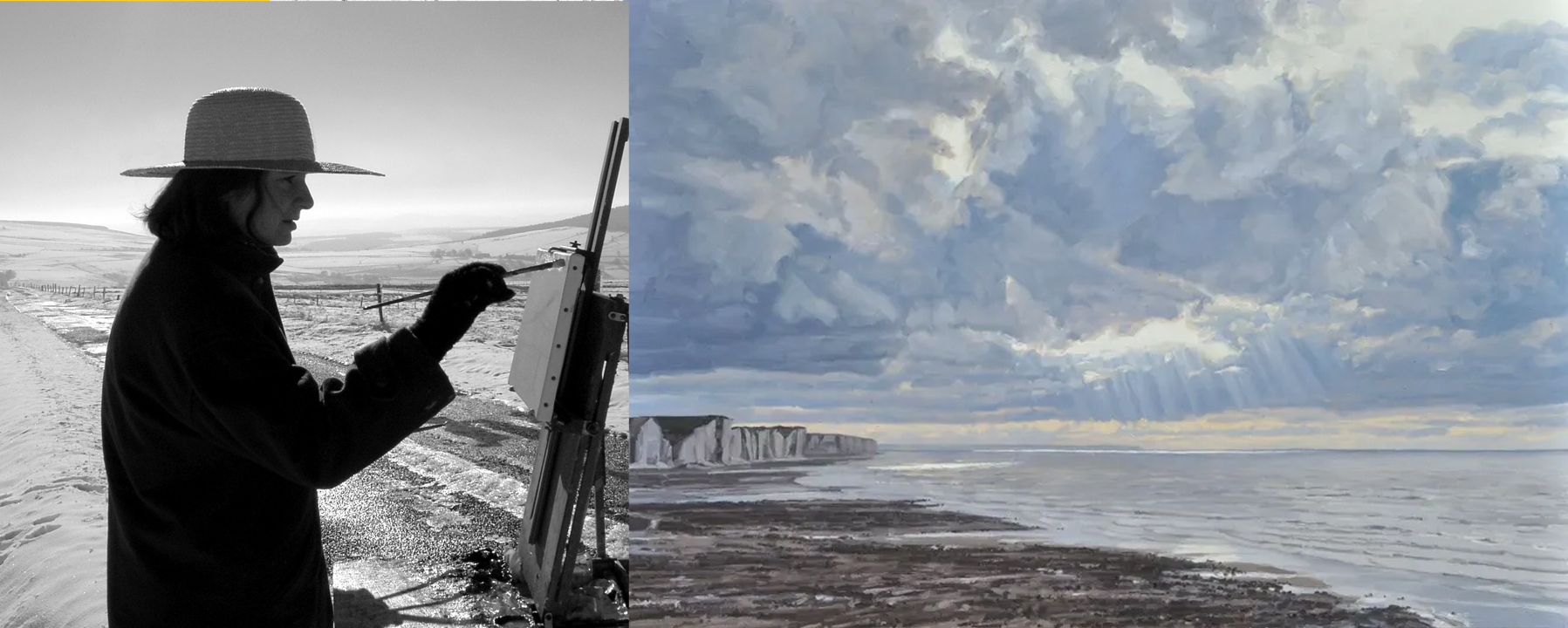 Shown above: Cliffs in Ault, low tide by Anne Baudequin
Meet Zatista Artist Anne Baudequin, a French landscape painter based in Saint Vincent, Auvergne-Rhône-Alpes, France. Inspired by the French landscape painters of the 19th century, Baudequin's work is based on observation from nature "en plein air".
Word from the artist's statement:
About twenty years ago I chose to live and paint in Auvergne, in the heart of France. From my studio, which dominates the gorges of the Loire, I contemplate the grandiose landscape shaped by volcanoes every day. My brushes explore it, tirelessly, like a walk, renewed daily by light, climate change and the seasons. I also like trips which are an opportunity to appropriate new landscapes, new lights and colors. More particularly, the sea is an inexhaustible source of inspiration for me.
Netherlands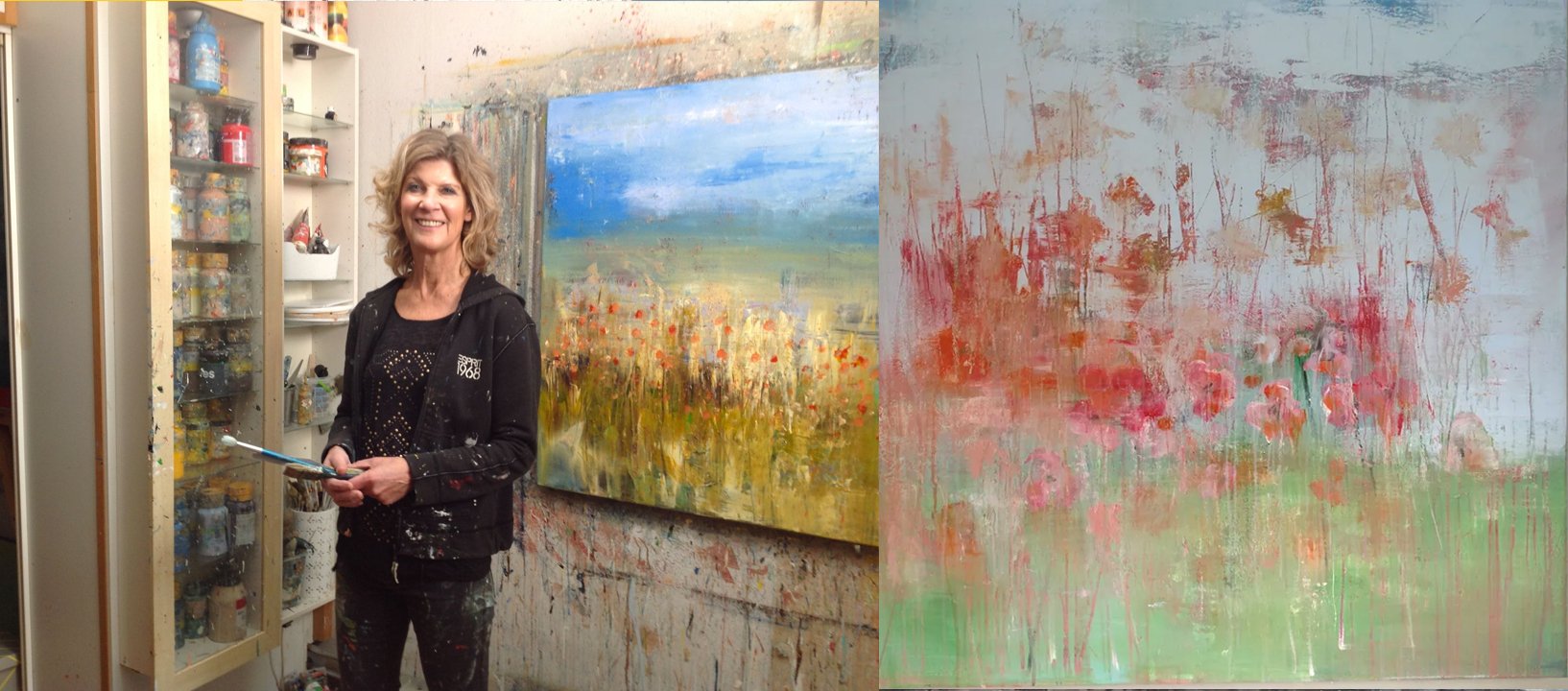 Shown above: Poppies by Hennie Van De Lande
Hennie Van De Lande is based in Breda, Netherlands. This vibrant city is located in the province of North Brabant. Her emotive, abstract paintings often explore water and other elements of nature and are sure to inspire.
Word from the artist's statement:
To paint is very meaningful to me in multiple aspects: it enlightens me in dark times, it strengthens me in weak times, it answers my problems in difficult times, it comforts me in sad times. To paint is vital to me. I am grateful and blessed to be able to paint, it is a gift to me. By experiencing my art – my gift – I hope for others to feel blessed and grateful too. 
Canada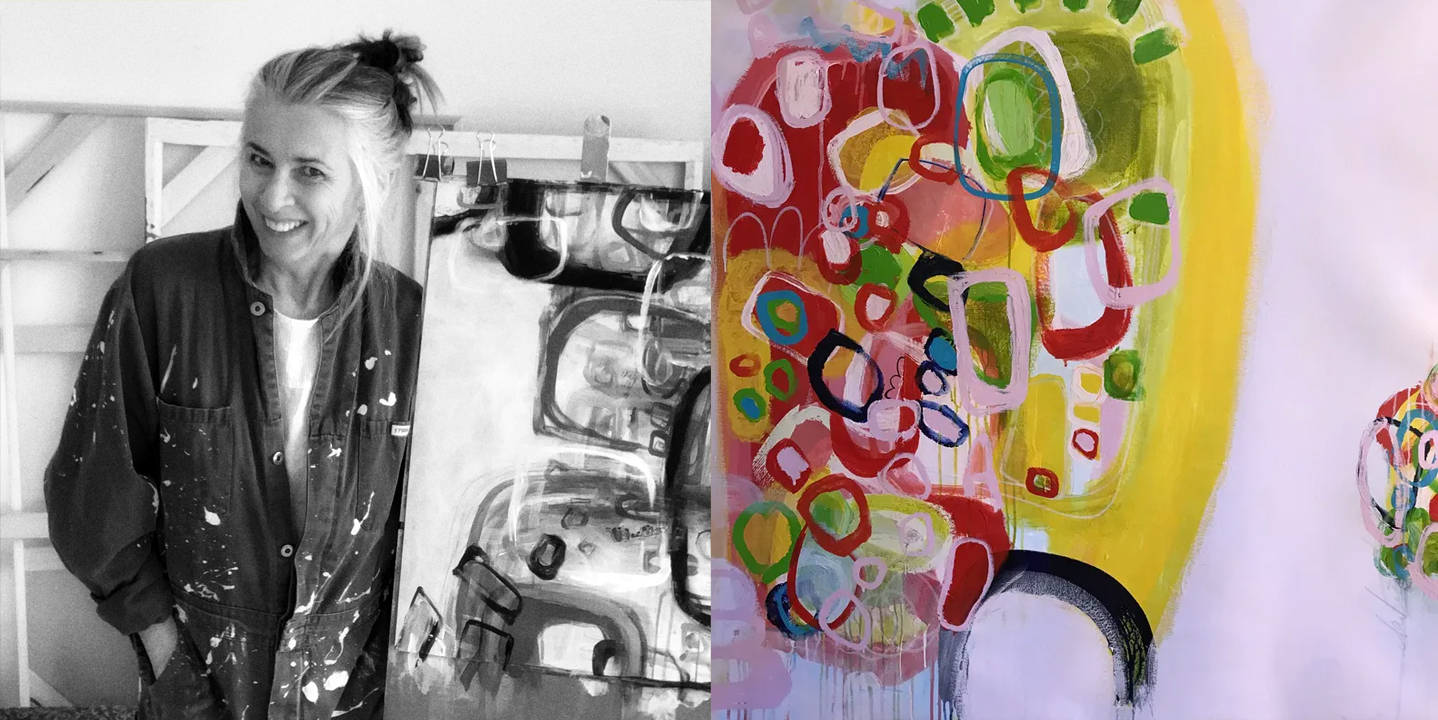 Shown above: Hand Hold Your Inner Child by Darlene Watson
Abstract painter Darlene Watson is based out of Southampton, Canada. This Ontario-based artist is self-taught and has had work exhibited in several Canadian galleries in Toronto, St. Catherines, Guelph and more. When asked about her artistic influences, Watson has said that she is influenced by Klimt, Kandinsky, Kline, Mitchell, Monet, Frankenthaler, Turner and Pollock.
Word from the artist's statement:
"An abstract painting allows an artist to free their imagination. This allows unique expression from each individual artist."
Portugal
Shown above: The Emotional Creation #230 by Carla Sa Fernandes
Portugal-born artist Carla Sa Fernandes' work could be described as spontaneous, colorful, vibrant and explosive. She is a full time painter working in Esposende, Minho and specializes in large scale colorful abstract paintings. Her work has been sold to many collectors worldwide, from Malaysia to Switzerland and Canada.
Word from the artist's statement:
I don't remember when my passion for art began. As far as I can remember I always loved art. Guess I have always been an artist. My grandfather was an artist and I used to spend lots of time with him when I was a child. Seeing him create, sharing and participating in his magic world – "our" magic world, are some of my best memories. Since then, I never stopped creating art throughout my life.
Norway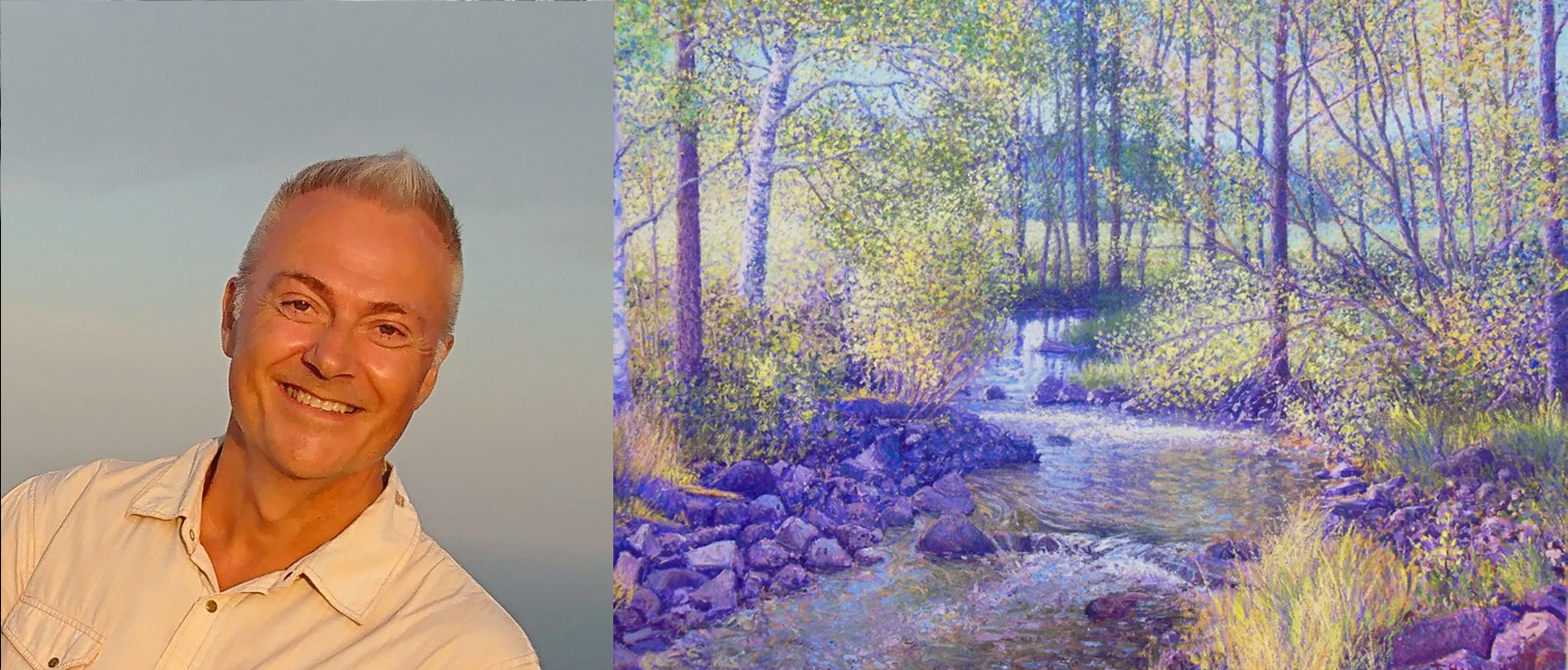 Shown above: The River of Silence by Tore Hogstvedt
Tore Hogstvedt was born in the small village of Siljan, Norway. Today, he is based in Lillestrøm, and paints beautiful landscape works of Norway's picturesque scenery. His art has attracted art collectors from all over the globe. 
Word from the artist's statement:
Art can change the world. Through my art, I want every person, every nation to experience the beauty and the importance of nature. Nature creates awareness and spiritual development! Nature has a Universal and unifying message for all mankind.
Belarus

Shown above: Last Rays. Summer Evening by Igor Barkhatkov
Belarusian artist Igor Barkhatkov is known for his realist works. He works with landscape, still life, and story-based painting. As the son of the famous Belarusian painter Anton Barkhatkov, he was inspired from a young age to create. He is based in Minsk, and has also studied in Berlin and Dresden. His works have been featured in exhibitions across the globe, from Abu Dhabi to Brussels.
Word from the artist's statement:
By choosing to depict his landscapes at the very peak of each season, the artist is able to locate the ground plane and horizon line in space with incredible accuracy. He focuses the viewer's attention on the shape of the shadows that are cast by the sunset and the proportionality of the lines and the shapes of rural buildings. Igor Barkhatkov constantly seeks to improve his system of painting by creating a colossal range of interconnections using the color gray. The artist reveals the richness of the lyrical intonations of the Belarusian landscape, creating true-to-life images that are enriched by a deeply spiritual theme.
Greece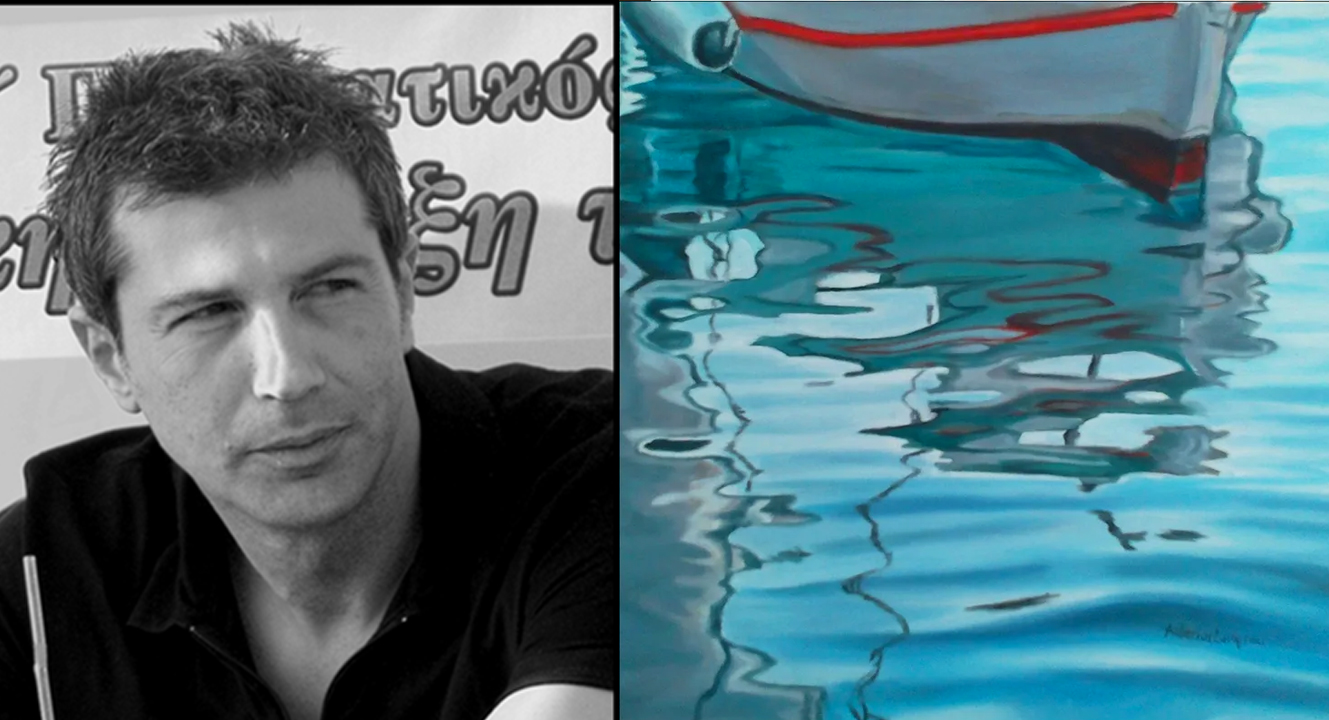 Shown above: lucid shadow by Asterios Lamprou
Zatista artist Asterios Lamprou works out of Patras, Greece, where he paints breathtaking artworks of the reflections on the water. He attributes this focus to the theory of reflection in Aesthetic theory. Lamprou believes that the theory of reflection is the most convincing theory about Art and science – that reality reflects on the human brain and the result is the human consciousness. This inspires his works. He has studied in New York City and Italy, and elaborated his doctoral thesis in Aesthetics at the National University of Athens.
Word from the artist's statement:
I created this series of paintings to emphasize the following theoretical position: "The reflection of reality, every reflection, can be beautiful, although it is a false reality. And when it's beautiful, it's self-valued. " I chose the reflections of boats in sea water, for several reasons. Because I love the sea, I feel it flowing into my veins. Also, because the shape of the boat is so familiar to us, Greeks, that we do not need to look at it to recognize it. Mostly though, because the reflection at sea water is elusive, changeable, unstable, uncertain, ambiguous, fluid, unlimited, just like human thought and therefore, the beauty of the one may refer to the beauty of the other.
—
Looking for a piece of art you love? Browse our curated collection or get a little help – learn more about our art advisory services.