Impressionism is an art style that was developed by Paris-based artists like Claude Monet and others in the early 1860s.
This 19th century art movement demonstrated a break from tradition in European painting and was first met with outrage. But today, some would say that the Impressionism art movement changed the art world forever. 
A New Approach
The impressionist artists took a fresh approach to painting – they painted "en plein air" (in the open air) rather than in a studio to capture natural scenes and shifting light. At the time, most artists were painting in studios, working from posed models or from sketches.
Many impressionist artists advocated for outdoor painting, including Claude Monet, Alfred Sisley, and Pierre-Auguste Renoir. Claude Monet in particular strongly advocated for plein air, noting that in order to be able to accurately recreate a subject or moment outdoors, one had to be sitting outdoors. 
Along with the plein air approach, the brushwork was quick, even rough, broken into separate dabs of paint – these rapid brushstrokes helped to render the fleeting quality of natural light.
The most common subjects of impressionist works were landscapes and scenes of everyday life.
"For an Impressionist to paint from nature is not to paint the subject, but to realize sensations."

– Paul Cezanne
Met with outrage
Did you know that the impressionist movement was at first met with criticism by the established art community? Early impressionists were considered radicals, breaking the rules of traditional academic painting. They were depicting scenes of modern urban everyday life instead of biblical themes. They ignored traditional painting standards such as clean outlines and smoothly painting surfaces. The French Academy of Fine Arts (Académie des Beaux-Arts), the conservative school that dominated art training, was very critical of the impressionist movement. 
In the 18th century, the Academy would hold the most important art world event of the time., "Salon de Paris", an annual art exhibition. The jury reflected the rules of the French Academy of Fine Arts. When in 1963, a number of artists were prohibited from participating in the event, the "Salon des Refuses" was formed. This event exhibited the works of the artists who were not allowed to be involved in the "Salon de Paris" event – including Paul Cezanne, Camille Pissarro, and Edouard Manet.
This event caused a scandal in the art world, with critics attacking the unconventional themes and styles of the paintings. Among the critics comments, Louis Leroy wrote of Claude Monet's Impression Sunrise, "Impression! Wallpaper in its embryonic state is more finished!"
"Try to forget what objects you have before you – a tree, a house, a field, or whatever. Merely think, 'Here is a little square of blue, here an oblong of pink, here a streak of yellow,' and paint it just as it looks to you, the exact color and shape, until it gives you your own impression of the scene before you. "

Claude Monet
Impressionist Art Technique
Impressionism art is characterized by small, rapid brush strokes rather than broad strokes.
In impressionism painting, the paint is often applied Impasto. This is a painting technique in which the paint is heavily laid on an area of the surface in thick layers. Usually the paint has been laid on thick enough that you can visibly see the paint brush or painting-knife strokes on the canvas. Once the paint has dried, the strokes show texture, with the paint appearing to be coming off the canvas.
Wet paint is layered onto wet paint before waiting for the previous paint application to dry. This helps to create softer edges and soft mixing of colours. The colours are applied side by side with very little mixing.
Our Picks
Zatista is home to hundreds of original impressionist paintings created by talented artists from around the globe! Here are some of our picks for impressionist artwork for your home.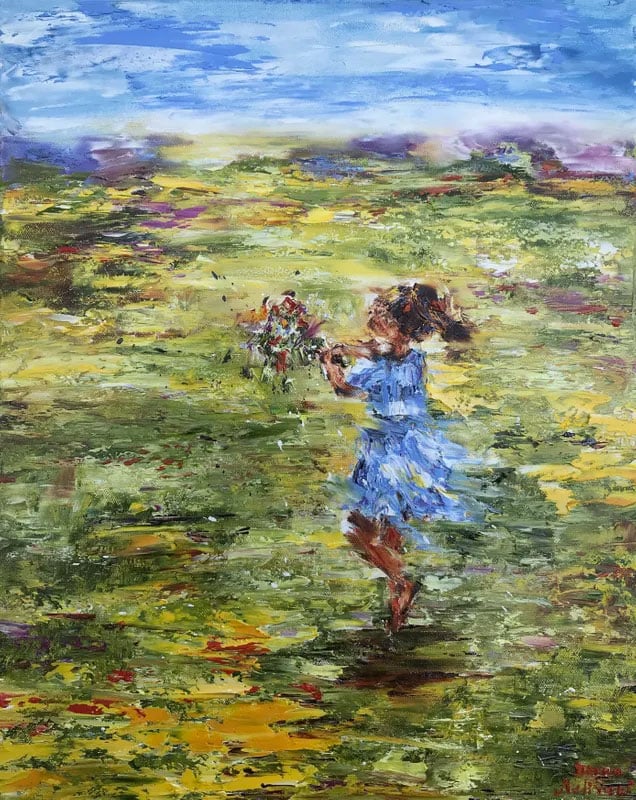 Au rythme de l'été by Diana Malivani
"Diana believes that it is very important for a human being to be in harmony with self and nature. Only then is it possible to commune with all the beauty of the surrounding world, hear the murmur of the trees and flowers, be in touch with the music of waterfalls and torrential rain, and sense the breath of the sea and passing clouds."
Painting, Oil on Canvas 19.7 inch x 15.8 inch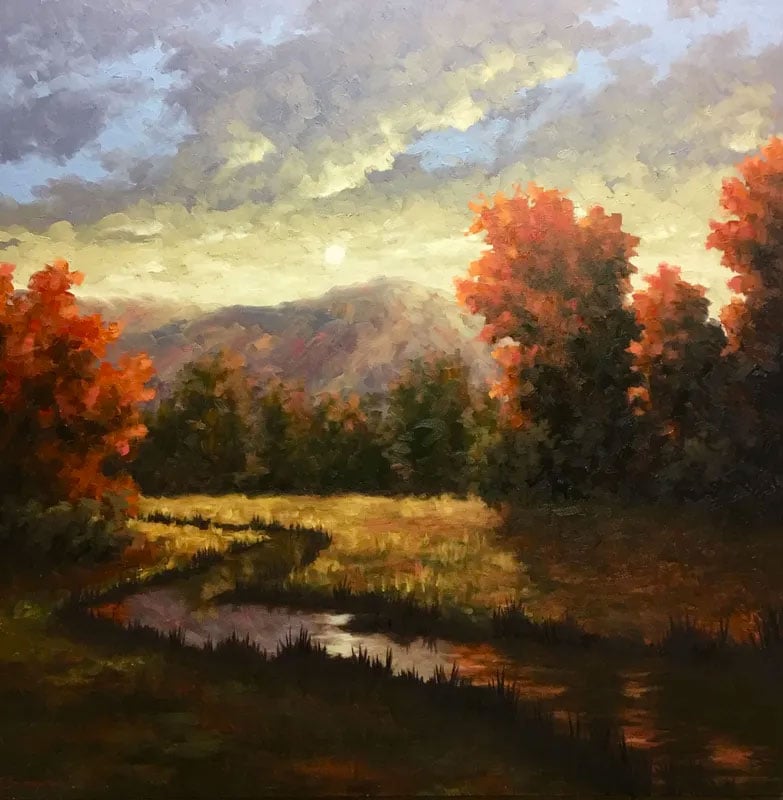 Mountain Sunset by David Berger
"For me, I paint not only because it is my calling, but because it is my passion. I aspire to create images in oil that are capable of transporting the viewer above the daily efforts and struggles, if only for moments in time."
Painting, Oil on Canvas 36.0 inch x 36.0 inch
View the piece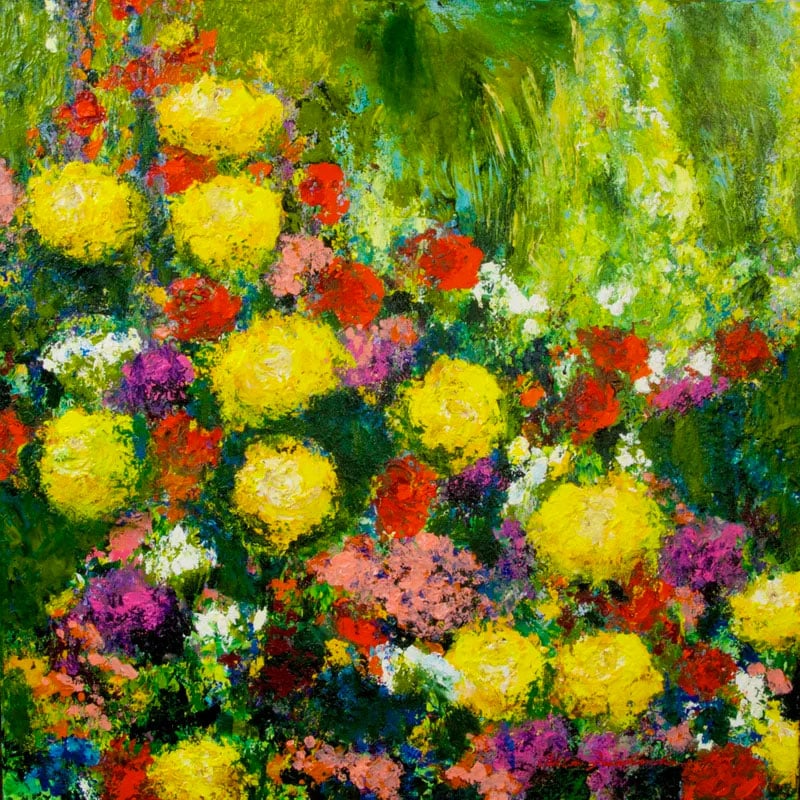 Savannah by Allan P Friedlander
"Paintings of landscapes, flowers, and abstracts reflect his many interests. He was inspired to paint garden flowers after visiting many beautiful flower gardens all over the world.  "
Painting, Acrylic on Canvas  36.0 inch x 36.0 inch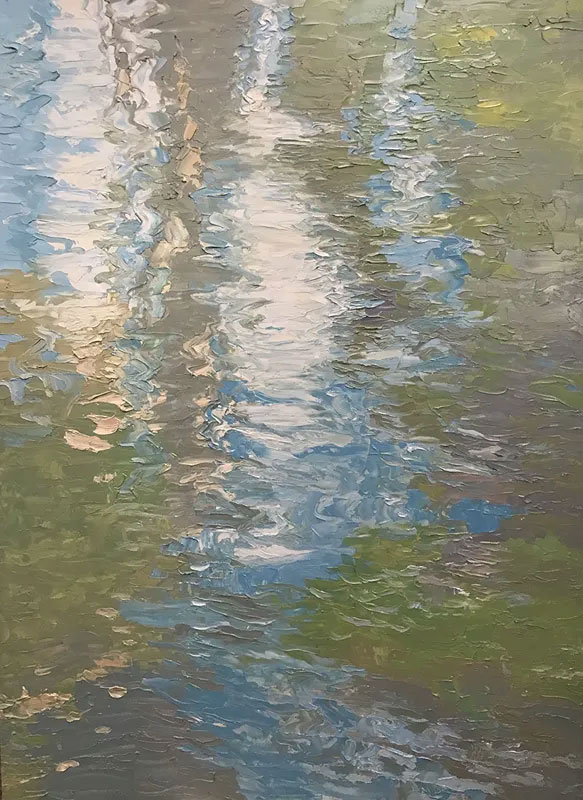 Touch Point by Michelle Howard
"Michelle has always been moved by the visual world around her.  She creates art to uplift, comfort and bring joy to herself and others. Oil paint remains Michelle's true love.  She is fascinated by its versatility. "
Painting, Oil on MDF Panel   18.0 inch x 24.0 inch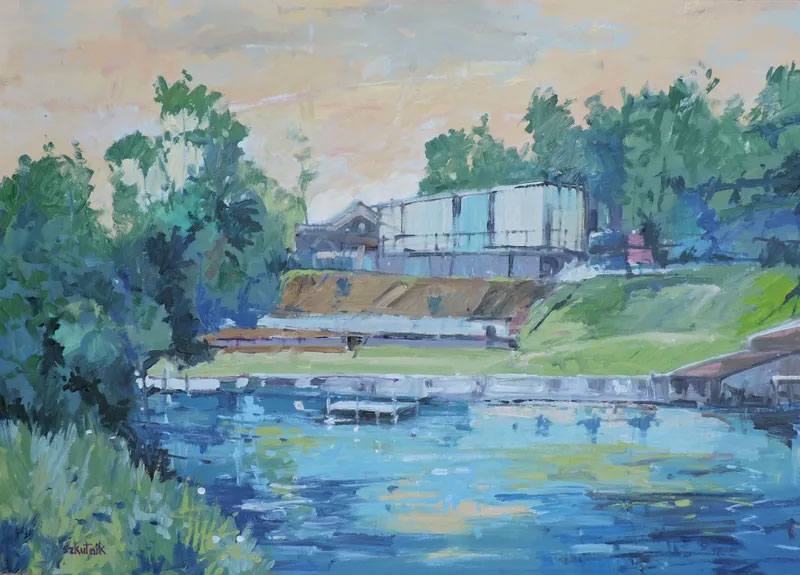 Canal by Richard Szkutnik
"I paint because I enjoy it, because I like to communicate with people about my art, my life and my world. I like to show and get people closer to nature creation. "
Painting, Oil 20.0 inch x 28.0 inch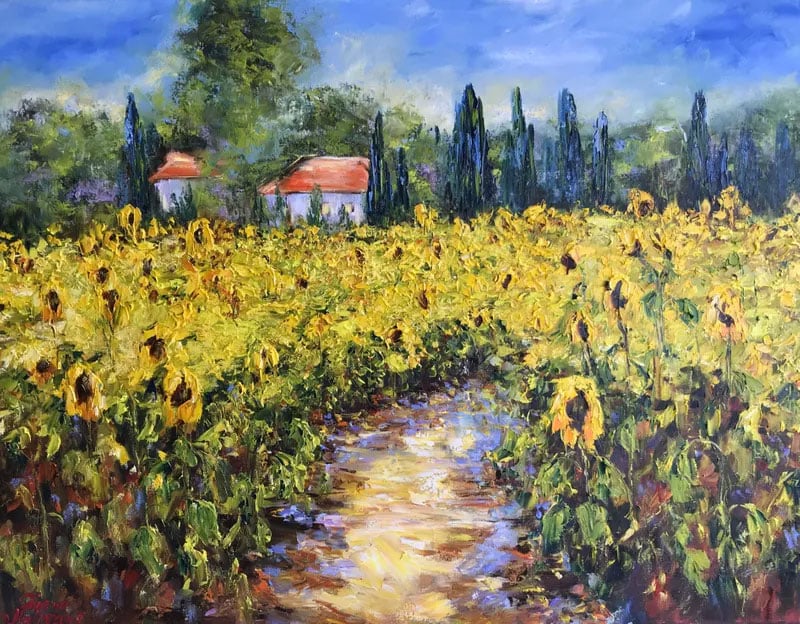 Sunflowers (1) by Diana Malivani
"Diana is always in the mood to create: this happy inclination and impulse arise spontaneously within her and form an integral part of her life. Nature, for Diana, is the best source of new ideas. "
Painting, Oil on Canvas 27.6 inch x 35.5 inch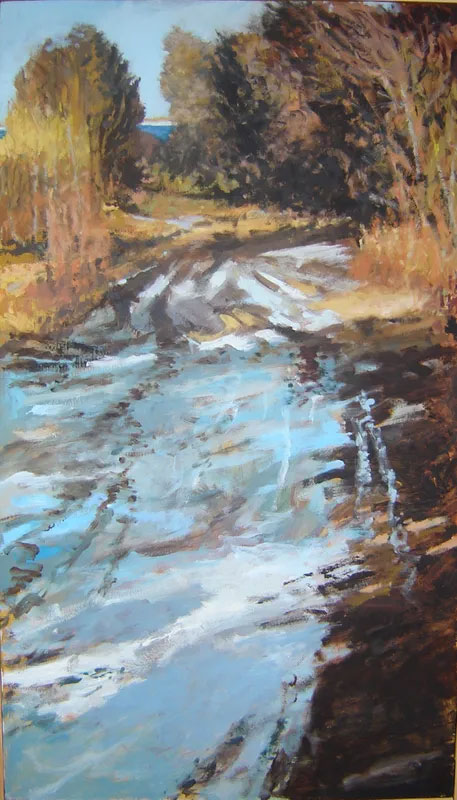 Path by Jonathan Van Brunt
"I painted abstractly for years and was attracted to dramatic compositions and vigorous brush strokes. As I spent more time outdoors with my children, I found that depicting the rich landscape of Long Island perfectly suited my approach to painting.  "
Painting, Oil on Wood Panel   42.3 inch x 24.5 inch
—-
Looking for an original impressionist painting for your home? Browse our curated collection, or reach out to learn more about our art advisory services! Our experienced team is happy to help you find the perfect piece for your home or design project.